PROFESSIONAL CUSTOM WEBSITE DESIGNS
Net Evident is a GLENDALE, ca based website design studio.
We specializes in custom website design and web page management. Our website solutions will fit your goals and budget no matter what size or type of business. We offer informational and e-Commerce designs. You can promote your small business online with a great looking custom designed website. We will work with you to create a design that is suitable for your company's needs.
We utilize the most advanced methods and software in our website desing and creation process. These include but are not limited to HTML, XML, CSS, PHP, ASP, Java, Flash, Photoshop, Dreamweaver, CMS, Dynamic Content, etc.
A custom website can help you:
+ Advertise your business online

+ Website is available 24/7 for your clients/customers

+ About your products, services, location, hours of operation

+ A cost-effective way to publish and update information

+ Communicate with your customers at their convenience
Browse through some of our recent website designs in our PORTFOLIO.
Net Evident Website Design and Development PROCESS:
1 - Click on the button below or call and tell us about your website project...
2 - One of our web design professionals will contact you promptly and discuss your options...
3 - We will assign a website designer / developer who will work with you every step of the way...

We will help you create an eye-catching web site that is custom tailored to your needs...


WEB DESIGN PORTFOLIO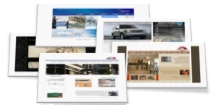 NET EVIDENT WEBSITE DESIGN SERVICES:

We have years of experience in graphic design, website development , Flash animation and e-commerce programming, you can be confident that whatever your project demands, our web developers can manage it on time and budget.


We provide fully customized web solutions to make your company succeed with unique designs and functionality. Every project is custom
fit to our clients' requirements, from design, to development, to marketing.